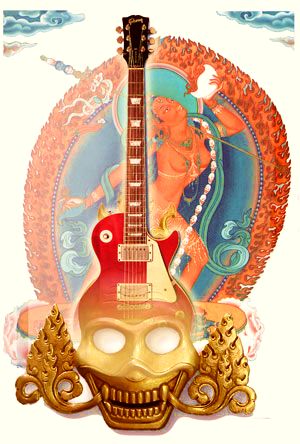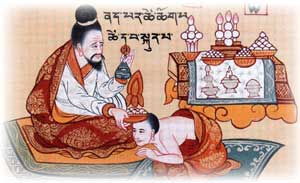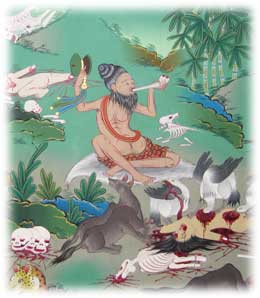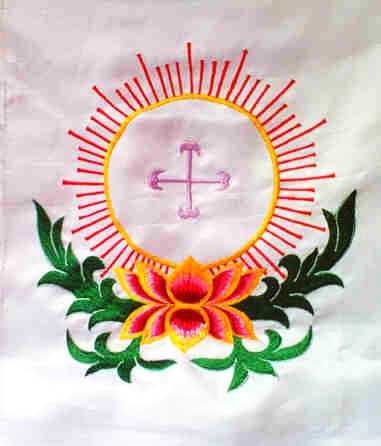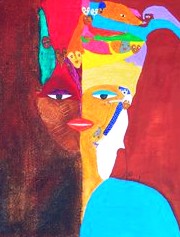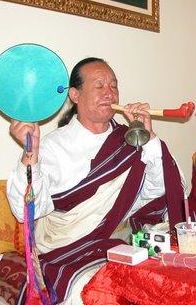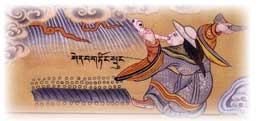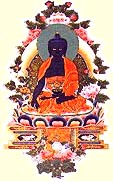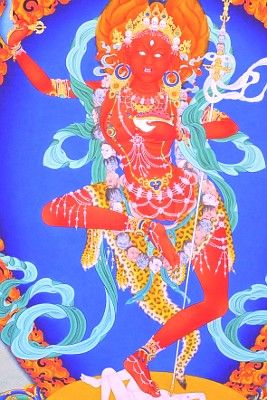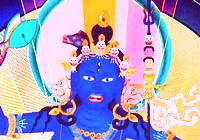 Tibetan & Keltic Shamanic Roots Music
Created by William R Leon, Lama Jinpa, Dev Lama, Pascal, Ben &all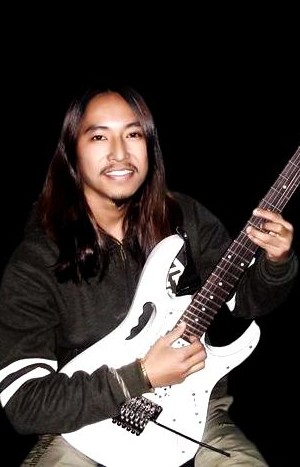 Welcome!
Caer Sidi Music is a creative group of visionary musicians, gNak-pas (lamas) multimedia artists, academic researchers and NGOs partners, all working from the strategic site of Bauddha Stupa (KTM, Nepal), thus being right at the centre of Nepal current humanitarian crisis and therefore being intimately related to the inner substance of an ever expanding new vision of artistic, musical and spiritual consciousness production, as it appears to enfold quite naturally and surprisingly over there...
The inspiration, influences and visionary lyrics being found in our MP3 samples and video clips are directly related to experience gathered from the practices of Tsa-rLung, Tantras and Termas, being merged with the Grail Quest and Keltic Archetypes, who/which manifest themselves in real life events...
The substance is thereupon gained is conceptualized within the musical and artistic expression of both the Vajrayana and Keltic traditions, biographically inherited either from transmissions given by reputed Nyingma Lamas Gurus (Khyentse, Dudjom, Tarab Tulku, etc...), Shamanic Teachers (Zeberio) and the Grail Quest Egregore spiritual embodiment.
Caer Sidi Music is a World Music Fusion of traditional acoustic and synthesizer instruments, blending harmoniously old Rock Music songs of the Arjuna group (70s-80s) with Tamang, Tibetan and Nepalese Traditional dance, music, pujas and rituals, all in one musical performance.
It is in short the Living Path, the expression of yogas practices performed naturally on a very daily basis in the powerplace : Bauddha Stupa.
It is the vibrant music magical expression of local youth, musicians and lamas, all gathering in the Cyberlinked multi dimensional new world music, emerging from their creativity...
Sacred Rock-Shamanic Fusion
Wrathful Mothers is the name of a global collection of individuals seeking to unite the blessing stream and enlightened potential of Tibetan sacred and shamanic music, with the dynamic, fresh and creative power of modern rock fusion….
The Vision
Our vision encompasses a wide range of creative and spiritual purposes:
Musical Creation
Music comes in an incredible array of genre, styles, periods and possibilities. From within this broad spectrum, Wrathful Mothers takes its inspiration from several distinct sources:
the best of contemporary rock, with an emphasis on European developments

Tibetan spiritual music, as epitomized by the shamanic and tantric traditions of Vajrayana Buddhism

Celtic music, and its connection to ancient Mongolian shamanic traditions in France.
Experimenting with the fusion of these elements, the creative process goes beyond musical inventiveness. The whole is infused with spiritual essence, and the purpose is to bring about a deep change in consciousness.
Integrating Mundane and Sublime
The whole purpose of the spiritual path is simple: to bridge the gap between our everyday, humdrum lives, full of stress and striving, with the pure, underlying stratum of enlightened energy that is the basis of all. Unfortunately, many spiritual traditions have only widened that gap, cloistered away in monastic environments. And music and art, no matter how good, has no consistent, meaningful way of connected with the divine. Dharma music and Shamanic Rock, integrating ancient spiritual technology with current, advanced Western music, is the ideal vehicle to bring these two forces closer together.
Transformation
Music can entertain, uplift, inform. It draws us in, forms a background to our lives, and is the milieu of the most special moments in our memories. But music can be the vehicle for a much deeper purpose. Rather than just musical wallpaper or a pleasant experience, music can be the vehicle of profound and lasting inner change. However, this doesn't happen by accidentally. Transformation is as much as "art" as music, literature or painting. And it is as much a science as physics or biochemistry. To bring music to its epitome, mainstream rock can be infused with spiritual blessings and sacred connections. This is the fulfilment of the promise of the music we love, were born with and is in our bloods. The scintillating brilliance of the Tibetan masters, and the heritage they maintain, can also be fulfilled. The transformative power of Vajrayana can find a home in the very streams of sound that come out of our radios, our ipods. Music and technology can finally be the handmaiden of sacred music and sacred technology.
Cultural Shift
Not least, the vision is to change the direction of culture, beyond the decadence and darkness of these last decades. Especially for the global youth, the lost generations that are now being inducted into the violence and aimlessness of the modern world, Sacred Dharma Music Shamanic Rock offers a possibility. Music that might merely be a protest or an escape, can become a pathway, and conduit for real change in the values and meaning of lives. By generating compassion, wisdom, integrity and fearlessness in the young, in men and women of every race, creed or walk of life, society itself can be redeemed to a new level. We uphold those standards and seek to fulfil the dreams of a worse gone sane and a time of peace and brother-sisterhood. (c) Lama Jinpa Jan2010 KTM
Download Caer ~ Sidi Album MP3* Tunes here for free!!!!